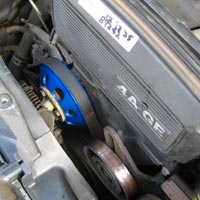 This prevents beforehand troubles, such as a water temperature rise by the cavitation phenomenon at the time of high rotation.
Number of rotations is decelerated at the number of rotations of the same ratio as crank rotation.
A fan belt can be adjusted in the normal state.
Blue hard alumite processing has been performed to the surface.